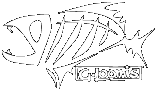 Zona on the New NRX Series
:
I have the
NRX 803S JWR
and the
NRX 852S JWR
which I have been able to throw a drop shot to a
Strike King baby king shad
. I can't say I have landed any true monsters with these rods, yet, but I have absolutely no worries when that bite comes, these rods will preform as described,
period.
The actions of either rod is great. Both have enough flex in the tip and the right parabolic bend to launch light drop shot rigs into the wind but have the backbone needed to set the hook when fishing a jig, shakey head or the likes.
That's right I have fished both rods with a drop shot and caught a lot of fish. Both rods have landed numerous fish with moving baits with plenty of of hook setting power built into the blank. The Med-Hvy will fish the deeper crank baits and larger jigs a little better over all, as expected, but if I had to chose just one, the ol' close your eyes and pick, I would not be disappointed either way. After a week at Table Rock testing these rods there where small spats between boat occupants on who was going to fish the NRX's over the Mossybacks…lol.
A Very noticeable difference between the corks on the NRX and my Mossybacks or any other rod for that matter. I Love to fish bottom baits more than a lot of guys probably, and these rods are the sh#t.
Watch this video with Steve Rajef on the technical info about what NRX is all about :
These rods are light that is for sure! The cork handle is a highlight, with the way it fits the anglers hand and the density…. oh the density… is for Real!