The Story
James Cunningham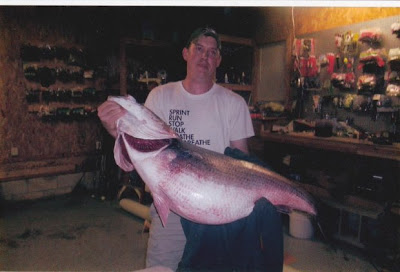 New Possible Missouri Striper
Record
"It is the first and to date only striper I have caught. Darn sure hope it's not the last," James Cunningham.
The MDC is confirming the catch. Cunningham weighed the fish on certified scales at the MDC hatchery below Table Rock Dam at about 7:30 that morning. It weighed 60.55 pounds and was just over 47 inches long.
If Cunningham's catch holds up, Missouri's record for striped bass will have fallen three times in the last four years. The previous two records were a 56-pound, 5-ounce fish taken on July 13, 2008, and a 58-pound, 5-ounce fish caught on July 8, 2010.
The current freshwater world-record striped bass weighed 67 pounds, 8 ounces, and came from O'Neill Forebay, a 2,250-acre reservoir near San Luis, Calif.
Nice Fish James!