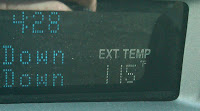 Today was the hottest day on record in the area of Kansas that I live in.
As you can see by the picture to the right it got to 115 degrees! Not sure where you are from or have been but that is hot as hot gets in KS. A few records we broken today as well as record numbers of 100+ days in a row.
I did not have a surface water temp gauge with me but can only assume it was bath water warm.
With this in mind I set out during my lunch break to gain some visual evidence of my last claims. I figured if I could get a few pics of some fish that would go a long way towards turning some non-believers…lol.
Here is a fish in less than 2 ft of water at 1:30 in the afternoon. Granted the picture is not GoPro quality, Official GoPro® Store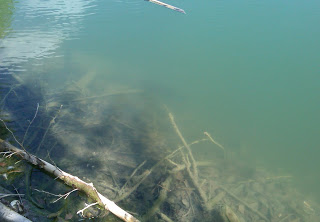 A Largemouth Bass in 2ft of water
This is in a little pond inside the city limits and receives quite a bit of local attention with beer bottles, shopping carts, and stolen bicycles littering the water. Focus just off center of the image, there are two limbs that form an arrow right at the fish. I snapped this picture within 20mins of standing still in the shadows.
Sight Fishing in August
Here is that fish in hand.
Please ignore the trash lake side and do notice the same stick pointing out directly in front of me.
Sight fishing in 100 degree water baby! LOVE IT!!
Fish on!
Tight Lines and Full Wells!
@ksbigbass