WoW !
Where do you start ?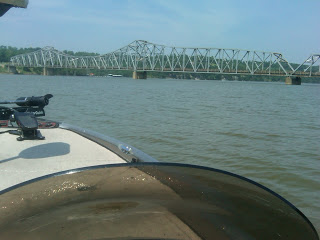 That can be the first feeling that comes over a person when they encounter a lake the size of Table Rock.
Billions of gallons of water for those green ghost to hide in. Even if you have been to the lake 50 or 1000 times before, you still have to answer that question.
Where do You Start?
Well we have all heard the term "Fish the Season". But what if that season is in Transition? Then the choices become a little tougher to make.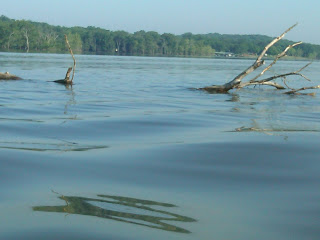 Full Size tree floating in the middle of Table Rock Lake
That is the exact situation I found myself in at the Rock. The water was 15ft above normal pool which had drug out every fallen tree off the bank and left them at the waters edge, as well as lot's of trees in the channel in the mornings that were drug out from the current running through the lake.
So a close eye on the water and waiting until I could really see I headed out to find those bass that I so love to chase.
So the question remains : Where do you Start?
With a lake with an average depth of Deep ..lol and then throw in a little extra deep.. and the fish transitioning to a summer pattern that could mean fishing a drop shot in 50ft of water on main lake points. The "local" info I was receiving was just about worthless. I was being told to fish the " Old Shoreline " ….Ahh ya right…That's a virtually worthless piece of info for most people! If this is a lake you haven't been to very often and don't have the shoreline memorized or it's not obvious , like at Table Rock, then WTH? Right back to the question:
Where do you start?
Starting is just that, just start. Pick a spot that you think is a good spot for the season you want to fish. Transition periods can be a real tough nut to crack, that's a given. So Pick one. So I decided to start on the main lake points, I picked summer.
With the pick made I went about sorting out a pattern. I started with the standard topwater early, followed up with crankbaits mid morning and drop shot late. This pattern was putting some fish in the boat, but not the consistency that I like to have. I like to Catch fish not just "wet a line" and if I don't think I am catching enough, I "transition".
PAA: Professional Anglers Association has a upcoming derby at the Rock so quite a few wrappers were floating around. Between them and the local traffic most of the main lake points where being flat worn out. Time for Change!
I switched up. I zigged while they zagged. I went to the back of the biggest spawning creek I could find. I was gonna switch it up to a blue gill pattern. I was a little apprehensive about this because of all the wood and the flooded conditions, it made getting to the bank a difficult proposition to say the least. But one that panned out. I was throwing the Deps Buzzjet jr deep into the flooded brush and was rewarded with quite a few largemouth eager to eat my bait. When the sun came out and the fish pushed tight to cover I zigged again. I pitched a Zoom Trick Worm wacky rigged on a drop shot at the base of the bigger trees. Let me tell ya, these fish had never seen that. Every color of Eakins and Chompers jigs have been put in front of these fish in the past, so I did something different. It payed off for me and my "clients" quite well at times. One tree I found in the close vicinity of MM #22 rewarded me with 15 bass on 15 drops. Just saying….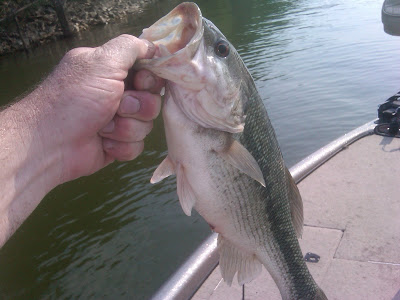 Table Rock Spotted Bass
Never give up!